Travel with an international eSIM
and discover seamless digital connectivity
eSIMs for travel to top destinations:
Where to get one?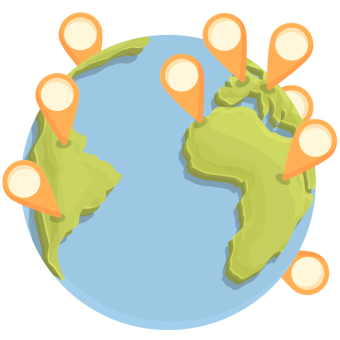 Visiting the USA with an eSIM
The best eSIM for international travel to the USA depends on the coverage you need and your budget. The global providers above are popular options. If you purchased your phone in the US, you can get a US eSIM plan from providers like T-Mobile, AT&T, Mint Mobile, Tello, US Mobile, Bytes Mobile, PureTalk (business users), Boost Mobile, Red Pocket, and Spectrum Mobile.
Visiting Europe with an eSIM
The best eSIM for European travel similarly comes down to cost and coverage. One of the top providers is Vodafone, but other go-to providers for eSIMs in Europe include EE (UK), Orange and Bouygues Telecom (France), O2 (Germany and other countries), and Iliad (Italy).
Visiting Canada with an eSIM
In Canada, eSIM plans are sold by Telus, Koodo, Public Mobile (owned by Telus), and Lucky Mobile (owned by Bell). eSIM cards in Canada can be activated on compatible devices sold by major carriers
that offer domestic and international phone plans
like Rogers and Bell.
eSIM vs. physical SIM:
Which is better for travel?
Sick of hunting around for a new SIM card when you visit a different country? Don't want to lose your data, messages, and photos if your SIM card gets lost or stolen? Say hello to eSIMs—the new way to stay connected when you travel.
An eSIM lets you activate a phone plan on your mobile device without a physical SIM card. eSIMs are built into your phone's hardware and can be activated electronically by your carrier. When you switch to a different eSIM-compatible device, your carrier can switch service to your new device remotely.
eSIMs for travel are a great choice for globetrotters, but there are some potential limits to keep in mind:
Activating an eSIM card is easy. Simply navigate to your phone's network & mobile data settings, and add a new data plan or network to your device.